When they started demolishing Aux Vieux Barils on Arthur-Sauvé in Laval Ouest in the winter of 2014, many residents, like me, probably got excited at the prospect of a new restaurant being built. The building was starting to show its age and it wasn't a place I frequented. But for others, it was a sad time for Laval-Ouest as it was an end of another local landmark.
Talking with the locals, mostly the men, had fond memories of going to Aux Vieux Barils which had been the local tavern in the 60ees (yup, no women allowed back then) it then became what we call a "resto-bar" thereafter. That's almost 50 years of history. From what I hear of Phil's grandmother, the Salisbury steak wasn't all that bad either!
Regardless of how we felt about the old landmark (good or bad), everyone would agree that the new business that replaced it, La Reserve Brasserie Traditionnelle, definitely upgrades the area.
So who comes to La Reserve? On my last couple visit, I put on my investigation hat and did my little tour of the tables next to me an low and behold, very few were from Laval-Ouest. People seemed to come from all over: Oka, Mirabel, St-Jerome, Laval-sur-le-Lac, St-Eustache and even a table from Russia (long story)! Many told me they were regular clients who come back for the great food, while others said it was their first time and they were really impressed and were definitely going to come back.
So if you haven't been yet, I give you 10 reasons to discover (or rediscover) La Reserve brasserie traditionnelle:
1. It's a hip, happening place, à la Centropolis, but without the crazy parking
They did a great job with the ambiance that feels hip yet relaxed at the same time. Their website says their space is "friendly, authentic and non-pretentious". Sounds about right.
2. You can go for a full sit down meal or just a drink
I was impressed with how varied the menu was. There is really something for everyone and a decent wine list too. If you are coming just for a drink, you'll find a lighter menu to snack on. Oh, and free, unlimited popcorn. (Note: the kitchen is not open during all hours, so make sure to check the restaurant hours here.)
3. They have an amazing menu with beautiful presentations
Executif Chef, Philip Doucet, describes his type of menu as being "Pub Bistro" and is continually being renewed. He is constantly seeking new cooking techniques and new combination of flavours.
Their flank steak is definetly on the top of the list of things to try first (Chantal approved) but there is a lot more to discover like their salmon or beef tartar, Portuguese chicken and bam-bam shimp just to name a few.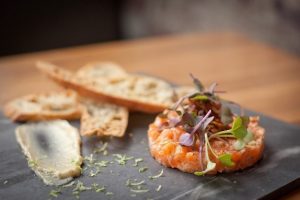 4. It's a great place for parties or groups
La Reserve has a second floor that can hold private parties of up to 60 people. Plus there are other nooks and crannies for you to have a pretty intimate group. Very cool.

5. They have great promotions
4-7 happy hours is not the only amazing was to save money at La Reserve. For example they have a few times during the week where you can try the flank steak at a reduced price.
6. You can go on a budget or splurge.
Weather your want to eat a 9$ spaghetti with a $3 beer or a $35 filet mignon, La Reserve has you covered.
7. To listen to the hockey game on the big tv
La Reserve, like most Quebeckers, like their hockey. That's why they have special promotions on hockey nights (Tuesdays and Wednesdays). Did I mention it was next door to a hockey arena?
8. No kids
This is a strict 18+ bar. So for some of you this is not a positive thing, but for most people wanting to hang out in a bar, it is.

9. The staff.
One of the most recurring comments on TripAdvisor, Google and La Reserve's Facebook page is the amazing service. "Frendly" and "warm" came up a lot. The staff really is friendly. It's always a good sign. It explains the very low staff turnover that they've had since opening in 2014.
10. It's got history
The owners Sophie Thelen and Dominique Daoust (second generation owners) were also the owners of Aux Vieux Barils for the past 30 years. After working and planning 3 whole years, getting all the right permits, getting the OK for the residential neighbors, dealing with the city of Laval which was under a new administration, a lot of work went into the amazing transformation.  I think I speak for (almost all) of Laval-Ouest residents when I say a huge THANK YOU for upgrading our neighborhood.